内祝い_二田様
想いをかたちに。
正月明けに一本の電話があった。
「内祝いを用意してもらえませんか。」
二田さん(旦那様)は熱い想いをお持ちの方で、
様々なところを検討し、
ヤマモを選んでくださったようだ。
メッセージや商品内容、パッケージと
打ち合わせを重ね、今回の形に至った。
いよいよの納品時、
「自作のメッセージカードも添えてお届けしようと思います。」
と、笑顔で言う二田さんの心配りは、
それこそ、たくさんの幸せをもたらすのだろう。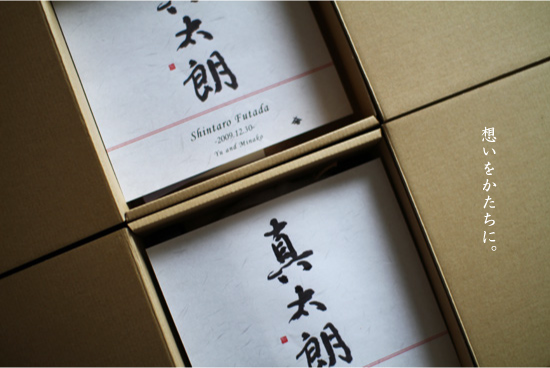 Celebration goods_Mr.Futada
The desire to shape.
There was one telephone in dawning at the New Year.
"Could you prepare the celebration goods?"
Mr.Futada seemed to examine various points by the person who had a hot desire, and to have chosen Yamamo.
The content of the message and the commodity, packages, and meeting were piled up, and it arrived at this shape.
When goods was delivered, he said, "Let's affixed also by the note card of making by oneself and delivered it".
Happiness his dusting consideration it might be brought. ARIGATO.
2010.01.30 Saturday
-
-
-